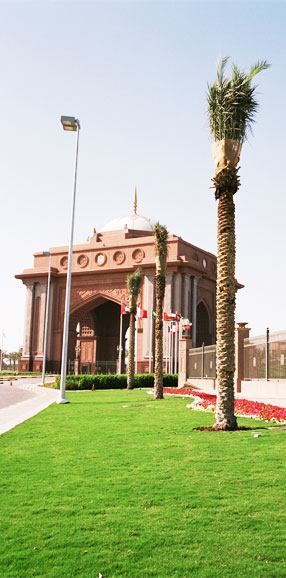 We, at ADMAC, focus our corporate ideals "To create a better environment for the nation" while pursuing our business activities with our core strengths of construction and engineering services, and we strive to contribute by developing a safe and comfortable infrastructure and living environment while prospering as and caring for the environment.
The Ongoing Journey
30 years ago, Abu Dhabi Maintenance and Construction (ADMAC) was founded with an aim of catering to the development of the nation. Over the years, ADMAC has grown to become one of the leading UAE firms specialized in construction and infrastructure development. ADMAC was founded and established by H.E. Mr. Ahmed Khalifa Khalaf Al Mazroui who was the deputy chairman of Abu Dhabi Municipality for 30 years. Mr. Al Mazroui is the owner and chairman of Ahmed Khalaf Al Mazroui(AKM) group of companies, which is compromised of 37 companies in various fields of work.
---
AKM Companies Specialised in the field of Construction
ADMAC
Pauling Middle East
Infrastructure, Maintenance and Construction
Al Barq Construction
High/Large Scale Buildings/Towers/Villa Construction, Road Construction.
Al Hada
Buildings/Towers/Villas/Mosques/Schools/Hospitals.
Abu Dhabi Laboratory
General Earthworks
ADMAC Logistics & Transportation
Independent Construction Lab approved by AD Municipality
Precision Precast
Pre-Cast Plant
Drillcon International
Pipe Jacking and Microtunneling
---
Our Categories of Work
E.P.C & B.O.T & B.O.O Projects
Operation & Maintenance
Building Constructions-towers/villas (with sister company under same owner specialized in building works called M/s.Pauling Middle east, since 1978 in UAE)
Earth works & Road Works
Sewerage Networks & Connections.
Storm water Drainage Networks.
Water Networks & Connections as well as House Connection.
Waste Water Treatment Plants
Sewerage Pumping Stations.
Pumping / lifting stations.
Water Reservoirs / Tanks
Water Purification as well as Water Reuse Plants
Golf Course Construction, its O&M.
All levels of Earth & Road Works.
Piling Works
Irrigation and Landscaping (soft & hard) – example Emirates Conference Palace Hotel
Water Features/swimming pools/theme parks/leisure parks/ Horse/camel Race Tracks/course.
Mechanical & Electrical, I & C (M&E Works) all above related jobs.
Temporary camp constructions with Full Facilities Management.
All levels of labour camps/workers camps.
Waste Management System ,design phase to actual execution with O/M
Large Scale steel structures, steel tanks, welding, fabricationworks.
Facilities Management from design phase to actual execution with O/M
---
ADMAC & ODEBRECHT has enforced into a joint venture for the construction of the Abu Dhabi strategic enhancement scheme of Sewerage tunnel.
Recently, we have entered into a joint venture with one of the leading golf construction company called "HARRADINE-GOLF "to construct golf courses. They have already built 6 golf course in UAE including the Abu Dhabi golf course and the, Jabel ali golf course, the greens etc in Dubai, including golf club at Al Hamra in Ras Al Khaimah. And over 200 golf courses across the world since 1920.
In the field of facilities Management we had formed a joint venture with IDAMA Asset Management Solution, a member of Dubai holding who have already proved them in FM services from design to execution projects of Dubai properties in Dubai. Together with them we have entered the Abu Dhabi real estate market to explore possible opportunities in FM sector.
In the field of Constructing sewerage treatment plant on 30 years lease period, where we generate our investment money by selling the treated waste water for irrigation purposes, District Cooling Purposes, batching Plants etc. though we have done number of STP's in Abu Dhabi, but recently we have entered into joint venture with PALM WATERS, Member Of Dubai Isthimar Group do build STP on the basis of Design, Build & Operate.
ADMAC has sufficient and efficient Technical & Financial Facilities to grab bigger projects with adequate number of manpower and heavy plant facilities. We have constantly satisfied our clients and progressed ahead successfully to keep up the fine reputation that we enjoy in the market locally and regionally.
---